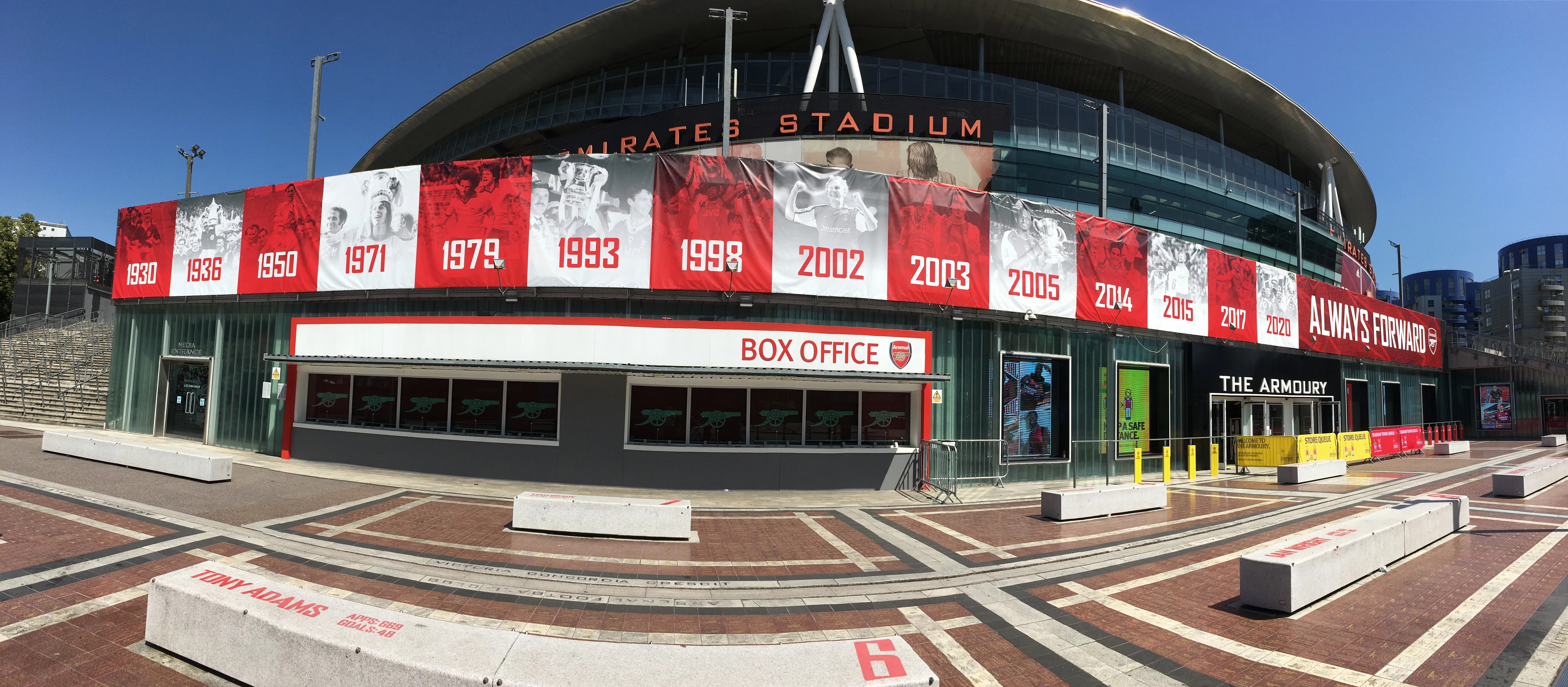 Arsenal's history one day at a time
This series takes a look at what was happening to Arsenal and in the world around them on this day at one point in Arsenal's past.
5 September 1970: Arsenal beat Tottenham on the way to the double
Arsenal 3 Chelsea 3, 4 September 1996, the video
4 Septemeber 1996
Goals:
| | | | |
| --- | --- | --- | --- |
| Paul Merson | | 44 | |
| Martin Keown | | 64 | |
| Ian Wright | | 77 | |
Starting lineup:
Lukic
Dixon Bould Keown Winterburn
Morrow Linighan Merson Parlour
Berghamp Hartson
GoalkeeperJohn LukicDefenderSteve BouldDefenderLee DixonDefenderMartin KeownDefenderSteve MorrowDefender/Centre backAndy LinighanDefender/Left backNigel WinterburnMidfielderPaul MersonMidfielderRay ParlourForwardDennis BergkampForwardJohn Hartson
Arsenal anniversaries 29 August – 4 September
22 August – 28 August Arsenal anniversaries
21 August 1976: Malcolm MacDonald makes his debut
In 1976 Terry Neill needed to refresh the team, and he did this over a a two year period with such key players as MacDonald (introduced to the first team in 1976/77), Rix (1976/7), Jennings (1977/8), and Sunderland (1977/78).
Malcolm MacDonald played just two full seasons for Arsenal, and then four games in his final season (1978/9).
He was born in Fulham on 7 January 1950, and played for Tonbridge, Fulham (signed by Bobby Robson for £1000), Luton Town, Newcastle United and finally Arsenal. In all he played 84 league games for us and scored 42 goals – a remarkable record.
Curiously, for a man remembered as a centre forward he started as a full back.
With Luton Town, Malcolm scored 49 goals in 88 games, which then inevitably led to his move to one of the big clubs: in this case Newcastle.  He scored three goals in his first match against Liverpool – which is what made his reputation there.
In 1975 he scored all five goals in an England victory over Cyprus, but after than only scored one other for his country in a total of 14 games.
The fee for the move to Arsenal was reported rather oddly to be £333,333.33 – exactly one third of a million pounds. He was injured playing against Rotherham in the league cup in 1978 which is what cut his third and final season so short.  He did try a comeback in Sweden but it didn't work out and he retired aged 29.
There is no doubt that without that injury he could have helped Arsenal to greater things and his loss was a major blow.  He did come on and play in the final game of the 1978/9 season – a 1-1 draw away to Chelsea in which he scored our goal. But for most of that season it was Stapleton who took the number 9 shirt, with Gatting, Price and Walford having the number 10 at different times.
Malcolm managed Fulham from 1980 to 1984, after retirement, and Huddersfield in 1987/8. He had some success with Fulham but could not achieve promotion and Huddersfield were relegated under him.
After football a failed business venture, a divorce and lack of success as a manager clearly affected him seriously and he suffered in his personal life although he later returned as a broadcaster.
15 August – 21 August Arsenal anniversaries
15 August 2009: Arsenal start the season with a 1-6 away win – the video
16 August 2003: The first match of the unbeaten season
16 August 1925: Arsenal buy Highbury
17 August 1971: Matchday 2 of the first double season
17 August 2019: Arsenal beat Burnley – the video
18 August 2001 Middlesbrough 0 Arsenal 4: the start of the great away games run.
18 August 2006: The first ever league goals at the Emirates
19 August 1989: The start of a new season after winning the League at Anfield. But what happened?
20 August 1960: Alan Skirton plays his first game for Arsenal.
20 August 1995, 2021 and 2022: Martin Ødegaar signs, Saliba's first goal, and Arsenal playing Middlesborough
21 August 1976: Malcolm Macdonald made his league debut in Terry Neill's first game as manager,
21 August 2001: Arsenal 1-2 Leeds
15 August 2009: Arsenal start with a 1-6 win
9th August 1997: The start of the second double season
9th August 1997:  Overmars, Petit and Grimandi all start their first game for Arsenal.  And of all people to play: Leeds United managed by George Graham at Elland Road.
Did we know these new players? No, most of us didn't. And we certainly did not know that the Petit / Vieira partnership would be one of those partnerships that would be talked about for years to come.
Our team was
Seaman
Winterburn Bould Grimandi Garde
Overmars (Hughes) Vieira (Platt) Petit Parlour
Wright Bergkamp
With new faces in the team it wasn't a great start to the season – we took the lead and Leeds equalised before half time.
The commentators were their inevitable English-is-best selves, criticising all these foreign players who "don't know how the game is played here" – Grimandi coming in for quite a pasting despite providing a beautiful pass to Wright for the goal.
The interesting point of course is where these two clubs went subsequently.  At the time of this match Leeds were up there with the big boys, and with Graham in charge there was hope that they could win something.  As for Arsenal, well, what does this Frenchman who has been in Japan know about football in England? Not a lot according to the media.
After Arsenal won the double did any journalist apologise for his negative comments during pre-season and on this day? Maybe, but I never saw it. There is a rather nice set of videos from that season here.
8 August 2011: Arsenal History Society launched
The Annual General Meeting of the Arsenal Independent Supporters' Association took place at the Emirates Stadium, with the highlight being a Q&A with Mr Ivan Gazidis, Arsenal's Chief Executive. It was a highly informative and positive affair, in which concern about the restriction on money available for transfers (due to the club's repaying of the debts incurred in the building of the new ground) was balanced with a matter that perhaps not too many people will recall (and which in contrast was of course much smaller, but which I feel was still important).
That smaller matter was the proposal to establish AISA Arsenal History Society as a body in its own right, associated of course with AISA itself.
In retrospect that was quite a step forward, as it showed how much Arsenal Independent Supporters Association, as the recognised organisation for UK Arsenal supporters, values the work already done in uncovering Arsenal's true history – and it gave a solid base for that work to continue.
Part of the reason for this positive step was a further announcement that we were able to release at that time: a series of articles in each match day programme for the coming season, under the title "Arsenal Uncovered" in which within each episode an article written by a member of the Arsenal History Society team explored a part of Arsenal's history that most supporters might not know about.
Since then the AISA Arsenal History Society has totally re-written huge chunks of Arsenal's history which has previously been wrongly recorded and through these pages on this website continues to explore the history of the club which has so often been wrongly written in the past.
It was perhaps fitting that our 12th birthday in 2023 was itself marked by a visit to Arsenal's original stadium – the Invicta ground – where members of AISA were able to stand on the terraces where Arsenal fans in the 19th century cheered on their team at its first home. I am sure that in their wildest dreams they could not have imagined how far this club would go – or indeed that there would one day be an Arsenal Independent Supporters' Association nor an Arsenal History Society.
You can read more about our return to the Invicta Ground and see a photo of us standing on that original terrace on the Arsenal History Society website.
Arsenal anniversaries 8 – 14 August
8 August 1923: The wonderful Jimmy Brain was signed.
8 August 2011: Arsenal History Society launched
9 August 1997: The start of the second double season
9 August 1998: Arsenal beat Man U 3-0 in Charity Shield, winning it for the ninth time
10 August 2003: Arsenal lost in the Community Shield match having returned 8000 of their tickets due to lack of fan interest.
10 August 2014: Arsenal win the charity shield
11 August 1979 and 2002: losing and winning to Liverpool in the Charity Shield
12 August 2007: Arsenal continue their 27 match unbeaten run.
12th August 2007: A touch of argy-bargy against Fulham: the video.
13 August 1988: Arsenal 4 Tottenham 0
13 August 2008: On this day Arsenal won 2-0 in the Champions League (the video)
14 August 1996. Arsenal sign Patrick Vieira for £3.5m
14 August 2005: Thierry Henry takes on Newcastle and wins