AISA's Karen Pond was at both, one celebrating 1989, the other with a fans' favourite.
Up for grabs
'Up For Grabs' was evening was in three parts.
The first was a performance of the Festive Overture and Firebird Suite (1919) by the BBC Symphony Orchestra.
The second part was the World Premiere of Mark-Anthony Turnage's "Up for Grabs." Turnage, who at one time lived a stone's throw from Highbury, was honoured to have been asked by the BBC to compose the piece centred on that match at Anfield in 1989. He gave it lots of layers. Including fast sections, a few jokey ones, some chanty moments, before the crescendo as the second goal was scored in the last minute of the match. Hearing it for the first time whilst watching highlights of the match was exhilarating. The piece is dedicated to David Rocastle whose family was at the Barbican.
The final part of the evening was a Q&A with George Graham, Lee Dixon, Alan Smith and Nigel Winterburn presented by Amy Lawrence. It was a brief, yet fun Q&A, with all the players having great memories of that match and, of course, our much loved and missed Rocky.
During the evening, Amy mused as to what guise 89 could come up with next…a banquet or maybe a ballet! Whatever it is it will have to be something special to beat Turnage's composition. And after the performance, I spoke briefly to Ryan Bancroft, the conductor, who said that he'd never experienced an atmosphere like it during a concert.
Liam Brady in Conversation with Perry Groves
One of Highbury's all-time favourite sons, Liam Brady was in conversation with Perry Groves at Wyllotts Theatre, Potters Bar on 10th November (and it was lovely to finally get to see him since the event had been twice postponed due to Covid).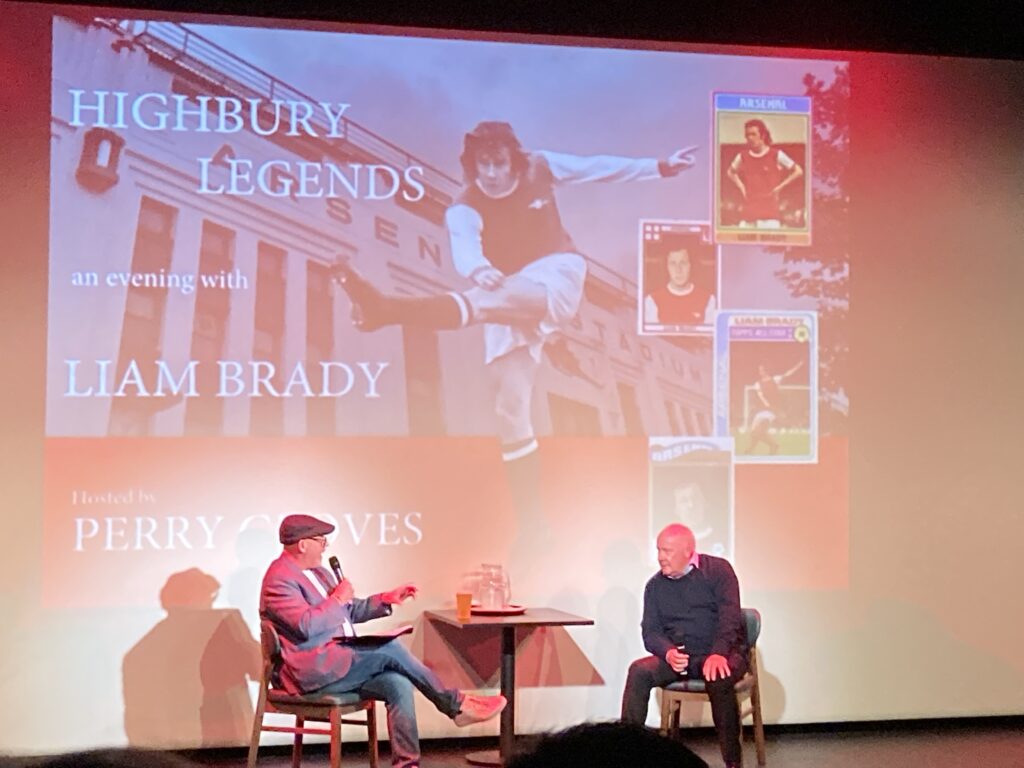 Liam spoke of his desire to join Arsenal despite Manchester United offering his mum a washing machine if he signed for them. His years as an apprentice was made easier as he had two older brothers who played for Millwall and QPR and were already living in London and he felt this helped him to settle in. He spoke of his debut for Arsenal and mentioned that Tommy Smith of Liverpool was probably his most difficult opponent in those early days.

His favourite goal was probably the one he scored at White Hart Lane. He spoke fondly about the 1979 FA Cup final and he gave the reasons why he felt the time was right for him to move on in the summer of 1980.
It was a fascinating and fun evening well presented by the amusing Perry Groves.
Karen Pond, November 2021