Arsenal supporter and AISA member Alex Phillips shares his memories
Like quite a few lucky people, I watched David Rocastle develop and grow as a player. There was hardly any football on TV in the mid-1980s, so to really know what you were talking about you had to actually go and watch games, live. English football was also still full of cloggers. So, to see a skilful young player from your city come through, survive and flourish, watch them every other weekend, watch them evolve, see their raw talent, for your team: it was a real privilege.
In fact, the excitement in watching Rocky came from his début in the 1985-86 season (I think), and that whole season, as Arsenal under Don Howe (RIP, another gent and legend) were really back on the up – based around the talent of young players who had come through Arsenal's youth system. Watching the likes of Tony Adams, Martin Keown, Stewart Robson, Rocastle and Niall Quinn all playing regularly and showing their talent, alongside older players who had come through the club like David O'Leary, Graham Rix and Paul Davis, was a real buzz (I still remain convinced that Arsenal had a shot of the title that season, on an amazing run into March before Don Howe left – then losing six games out of the last 11 to tail off).
Coming after a few underperforming seasons, to be on the up with such a group of our own young players, was similar to the feeling now with Saka, Smith-Rowe, Martinelli (if he is ever allowed to play again…), and others. Except that now everyone knows everything. Watching Rocky develop from his first games: it felt like we were thousands of scouts watching and discovering a brilliant new talent, and knowing a secret before anyone else in the country – because as a fan you actually care more, and often know more, than scouts, agents, newspaper reporters and TV pundits. Can this player really be this good? No-one knew how good he was for a long time. We did, we lived it. What a legend he was to become, a part of all of our lives.
The season after George Graham became manager, and it just got better. I was at all three Spurs League Cup semi-finals in '87, right behind his winner in the last game. For the third game, my mate and I were moved by the police (two years pre-Hillsborough) from the Shelf pre-match, with maybe a couple of hundred other Gooners, into an already dangerously over-crowded Paxton (away) end. It was a weird experience – extreme happiness at the same time as not being able to breathe, just trying to survive (me and my mate were maybe 30-40 yards away from each other by the end of the game, we had no control where we were).
I watched Rocky's great dribble and finish at home to Boro close up, stood in the Junior Gunners underneath the West Lower; was in the away end at Old Trafford seeing his dribble and 25 yard chip over Schmeichel from behind the goal; at Anfield on 26 May '89 for the greatest end to a league season ever; and so many other Rocky moments.
But like any fan lucky enough to follow Arsenal in the last 4-5 decades there were many other great payers and moment. I was also sat right above Thierry Henry in the front row of the East Upper when he spun 180 degrees and scored from 25 yards vs Man Utd in 2000, at loads of Finals and European aways – and at a lot else besides, like many other Arsenal fans. We are so spoilt (imagine being, say, a fan of Watford, Colchester, Spurs, Brentford, etc.). Thierry Henry was a superhuman footballer, the best I have ever seen at Arsenal. In all this context why was (is) Rocky so special? (and it's not just because Rocky is no longer with us, whilst that is of course a factor.)
For me it was a combination of so many different reasons:
he had supreme skill yet was also a true team player, for example always passing if a teammate was better placed, but also aware of his own talent and ability;
yes he played on the right and was right-footed but he was way more two-footed than most players playing wide in that era (e.g. his goal away at Southampton, or at Spurs in 87, etc);
his attitude – never sulking, never lazy, never glum, always positive, always working, always thinking, always concentrated and focused;
his professionalism;
hard, but without any spite;
the way he was one of us, coming up from the youth team, a Londoner;
the fact he had the number 7 shirt, a special shirt in that era, and especially since Brady, who was still the icon;
the classy and mature way that that he carried himself in general;
watching him from his first games as a pro was a privilege in an era with so few games on TV;
he had an incredible range of skills, unlike most players back then who were one-trick ponies ("ball-winner", "crosser", "finisher", etc), he was a complete player – he really could do everything;
the fact that he did skills – like stepovers, dragbacks, nutmegs, and so on – that were frowned on, culturally, in English football at the time, yet almost every time he did them there was a concrete output – it wasn't showboating, it was helping his team by taking opponents out, beating a man, creating space, doing all the things that are hardest to do in football;
I could go on…!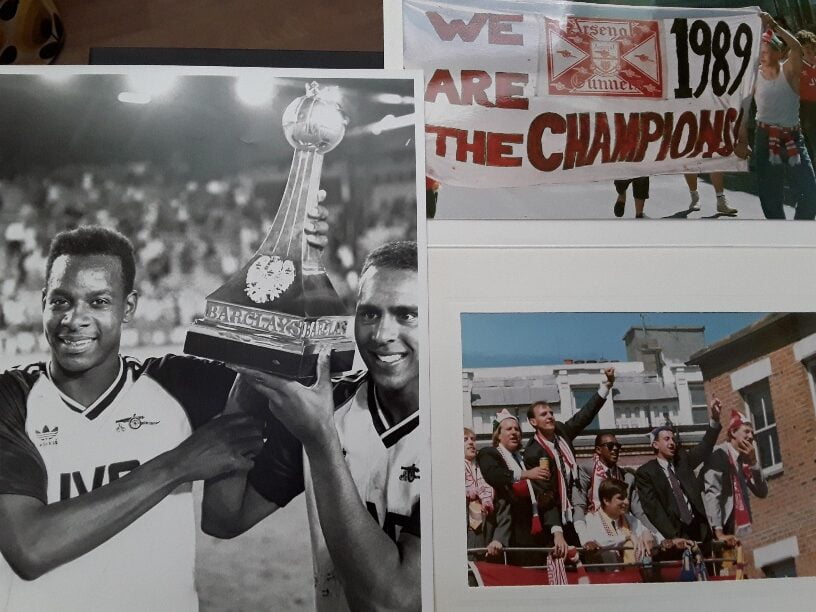 Of course what stays and lives with you most is what is burned into your brain, not what is on the Youtube montages… (although I do occasionally watch the Youtube montages, especially that one to Rod Stewart's "Forever Young" or that Rocky & Wrighty documentary, and have a little cry).
A home game against West Ham – a poor game. We won 2-0 but overall the quality was poor. However, I was stood in the corner of the North Bank and Rocky did a couple of truly incredible things with the ball, surrounded by 2-3 players he did some kind of combined feint, dragback and dummy to escape to get out of the maze. He did it something similar AGAIN in the same game. People's jaws literally dropped. Yet David Lacey of the Guardian, one of the best sportswriters in the country at the time, described it as a game of "hod-carriers", apparently missing these two moments of genius. I wrote to Lacey, furious, still have the letter: did he not appreciate the genius that we had witnessed? Again, fans often notice and note more than the "experts". Because we care more. I tried, but failed, to get a VHS of the game from the club after. It's still in my mind though.
One away game at Stoke at their old ground, the Victoria Ground, maybe an FA Cup game, late 80s early 90s. I was in early and watching the players in their first warm-up, maybe an hour before kick-off. Each player was doing their own thing. Rocky was just curling the ball, from outside the box, along the floor the whole way, to clip the inside of the post. He did it again and again and again and again, every time clipping the inside of the post. The sheer technical brilliance, consistency, and persistence, just stuck in my head. Thank god this guy was one of us.
My Art CSE in 1987. Not being good enough to do an O Level (we were the last year before GCSEs came in), I did an Art CSE – I could pick anything to draw or paint. I picked Rocky, from a programme cover I think. One of my life's biggest regrets is that I don't still have that painting (having said that I did only get a 2 for it…).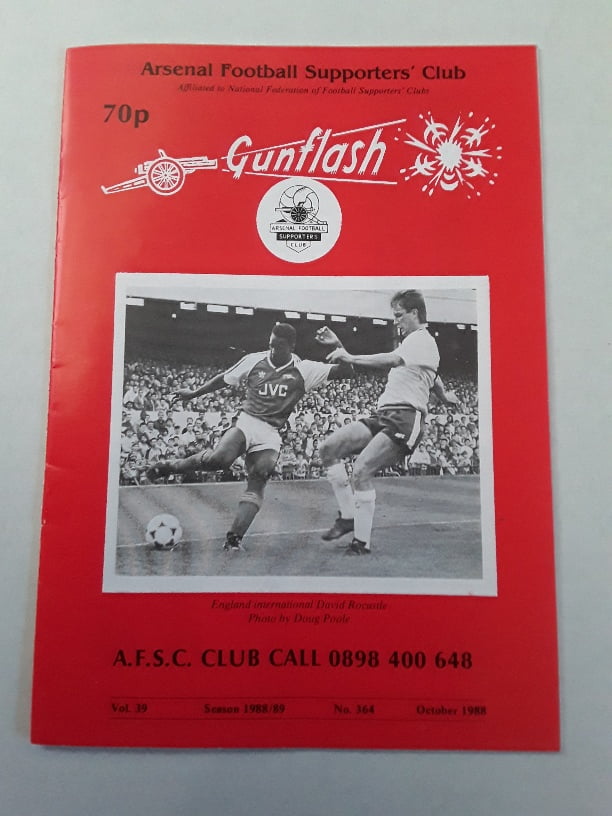 Can you imagine Rocky in centre mid for a whole season (with no injuries): he was such a complete player – just how good could he have been in that position? England certainly never had an all-action, 360-degree, skill player in that mould (Rocky was more skilful than Bryan Robson, and had a better physique and ball-winning ability than Gazza). I seem to remember that he did play quite a few games there in the 1991-92 season, the season before he left, but I think the injuries were affecting his game.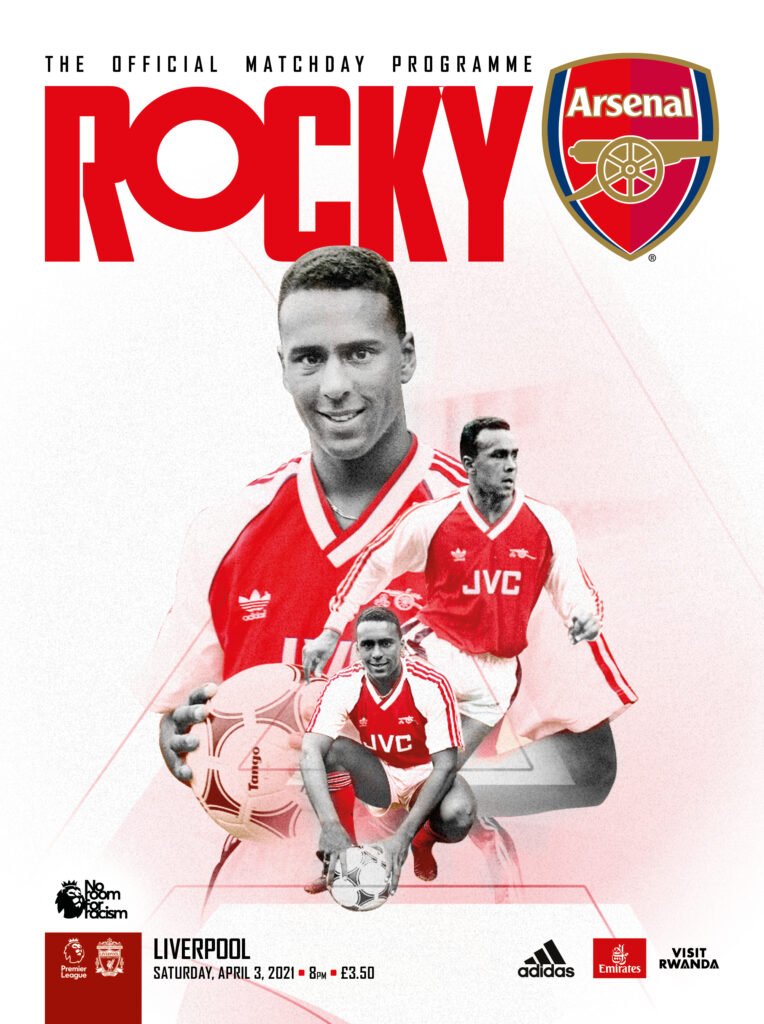 Two final things.
Firstly, very personal to me and my family is that David Rocastle's wife Janet said that for the family, their best two years together were in Malaysia, and we experienced the same too, an amazing country and place to be with your kids.
Secondly, my wife was an Arsenal lottery girl in that era: Arsenal fans from back then will remember them – "Make Money with Arsenal" – walking around the side of the pitch getting wolf-whistled pre-match and half-time, etc. Her personal memories of interacting with Rocky were as follows:
The lottery girls used to mingle a little with the players in the players lounge at times, eating sandwiches and cups of tea (or most likely fish n chips from the Arsenal Fish Bar – closed down now). Rocky was always friendly, smiley, courteous. I would often see him with Paul Davis, and Mickey Thomas as well. There were also occasional AFC social events where we would interact with the players a bit. I would say that Rocky was not a glamour boy, and he did not want to be. He would have flinched or recoiled in horror to be hanging out at 3am in Leicester Square with some of today's footballers and their groupies. He just wanted to stay in shape, be focused and do his very best for Arsenal. A true gent, like Paul Davis. He had found his dream and unlike many young footballers, he was immensely grateful and content. He had the same dreams as us. Making Arsenal the best. He was one of us.
Alex Phillips, Nyon, 31 March 2021
If you have any memories of Rocky you'd like to share, please leave them below.