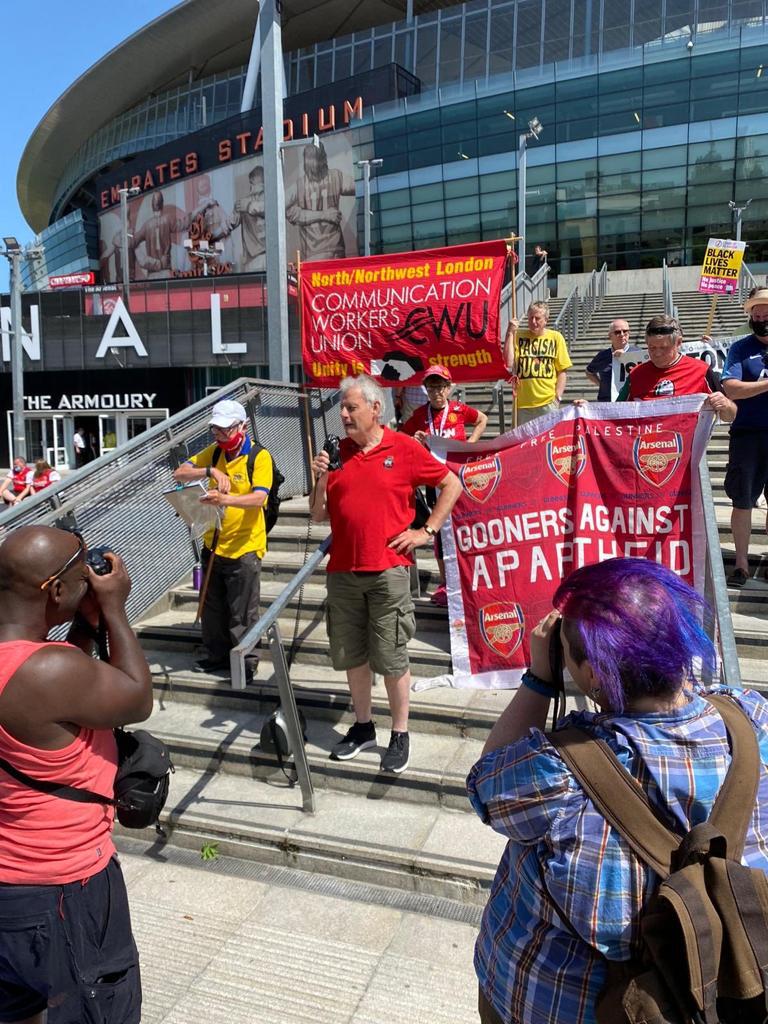 ASIA was invited to speak outside the stadium in late July, when crowds gathered to show solidarity with the England footballers who faced racist abuse after the recent European Championship. Our message was that this should not be happening, in football, anywhere, and stated our commitment to working to help eradicate racism in football and wherever we see it. We finished as Bukayo Saka ended his tweet, 'Love always wins.'
Here's how local paper, Islington Tribune reported it.
Fans of rival club teams united to send out a message of support to Bukayo Saka, the 19-year-old Gunners forward, and his teammates Jadon Sancho and Marcus Rashford, who faced online hate after missing penalties in the Euros final against Italy.
In pre-tournament friendlies, the national side had been heckled by some supporters for "taking the knee" before matches – a decision made by the whole squad as their own stand against prejudice.
Dean Ryan, from the Stand Up to Racism group who organised the protest, said: "As Arsenal supporters, everyone loves Bukayo Saka, but I have to say, when I look around the crowd today I can see a few different football shirts.
"I see Man United supporters. I see Tottenham supporters. We are here today as football fans and we are here as anti-racists. We are here to show solidarity to all people affected by racism. That's why we say the slogan: 'Black Lives Matter'."
Passing cars beeped horns, while the crowd called for Mr Rashford – who has helped lead a food poverty campaign to ensure schoolchildren do not go hungry during the coronavirus pandemic – to be made prime minister.
Andy Strouthous, a Gunners season ticket holder and a member of the Arsenal Independent Supporters Association, read out a statement from Mohammed Kozbar, the chairman of the Finsbury Park mosque.
"The racist abuse we have seen towards our young brave players was absolutely disgusting and an alarm to all of us," it said. "Racism must have no place in our society.
"It is a disease which should be tackled by all of us. The appalling racist abuse directed at Saka, Rashford and Sancho points towards a serious problem that social media companies cannot ignore any longer and must deal with as a priority."
Mr Kozbar added: "Racism in all its forms must be totally eradicated from our society. No one should get away with it, from our top politicians to football hooligans. No one should endure immunity anymore from this vile behaviour."