It's brilliant. Let's get that straight from the start. It's almost magical being inside the stadium, watching a real match, able to chant and cheer without feeling stupid about doing it in your living room. OK, it's not your usual seat, but a different perspective never did any harm. Just being there is all that counts. Aided last night by the performance and result (irrespective of anyone's assessment of the opposition).
So what can you expect if you win a ballot and have a seat – well, when you have a seat? That's assuming you've signed up, as everyone who has is guaranteed a turn.
If last night was anything to go by, there will be loads of staff and they'll all be welcoming you back. Maybe that will wane the more matches there are, but hopefully not.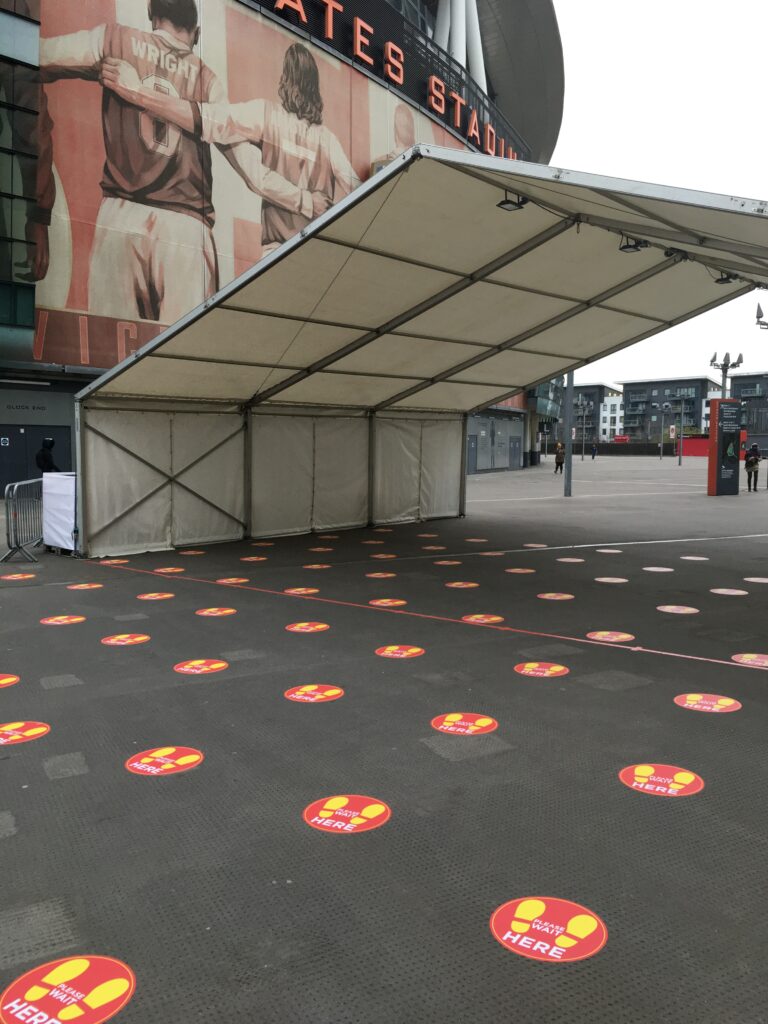 You'll have your temperature taken, your ticket scanned, ID checked and bag (small) tagged. Then you'll move on to a ramped up security check, where you have to empty your pockets of keys and other metal items as they run a scanning device over you. Not sure why, but no-one was quibbling at anything last night. All this takes place on the Ken Friar Bridge or at the top of the ramp on the west side, and it's under giant gazebos, so at least you won't get wet in the process. There will be plenty of people on hand to keep things moving but it is a hold up and, if queues arise, it might take longer than a few minutes.
Then it's across the 'podium' to your turnstile. Some clubs apparently aren't using them but Arsenal is – though last night the bar code reader didn't seem able to cope with a paper barcode. Still, there were plenty of people on hand to sort it out and help get supporters in and they'll hopefully have it sorted by the next match.
Once in, it'll be a shock to see how big and empty it is. I've never seen so many people standing idly behind the food and drinks counter. I'm all in favour of using local shops and cafes but if they're closed on your match day/night, there'll be no trouble getting something inside. Not so sure about programmes. If they were on sale, they weren't obvious. Maybe best buy one from the Armoury beforehand (assuming it's open).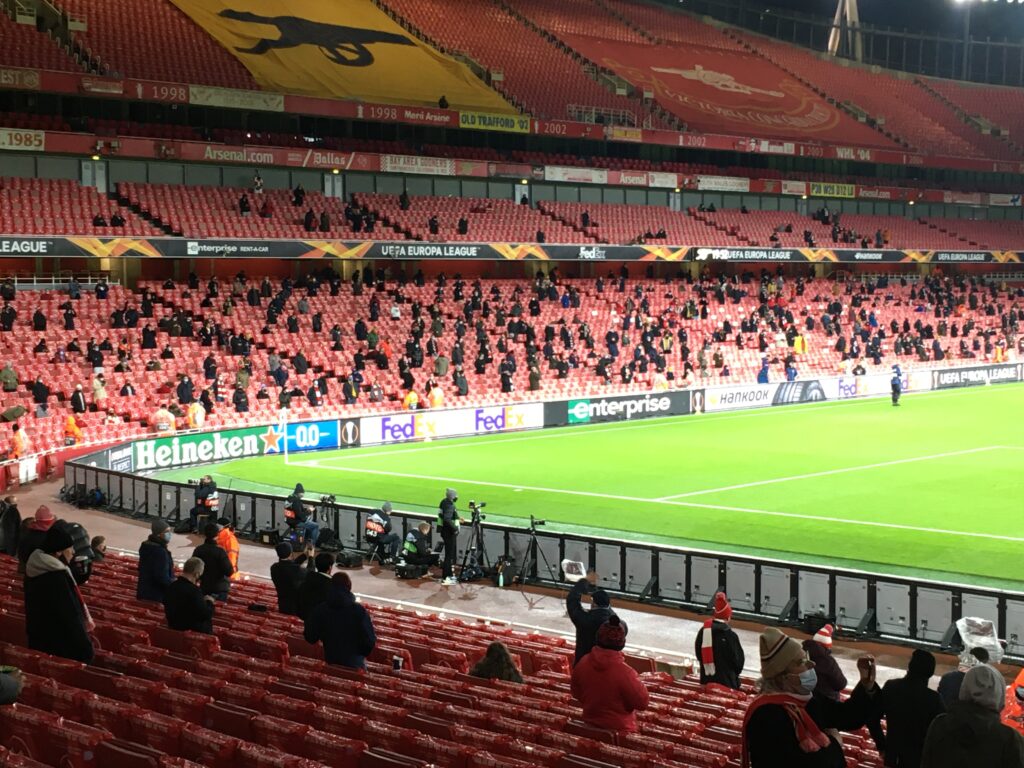 And then your seat. Vast swathes are covered over to make sure you keep to your allocated seat and your distance. It's arranged in alternate rows, so no-one is sitting directly in front of you. All the occupied seats form a straight line to the pitch, which probably makes sense for easy ticketing. It it's not so clever if you want to sit and someone in front insists on standing and waving.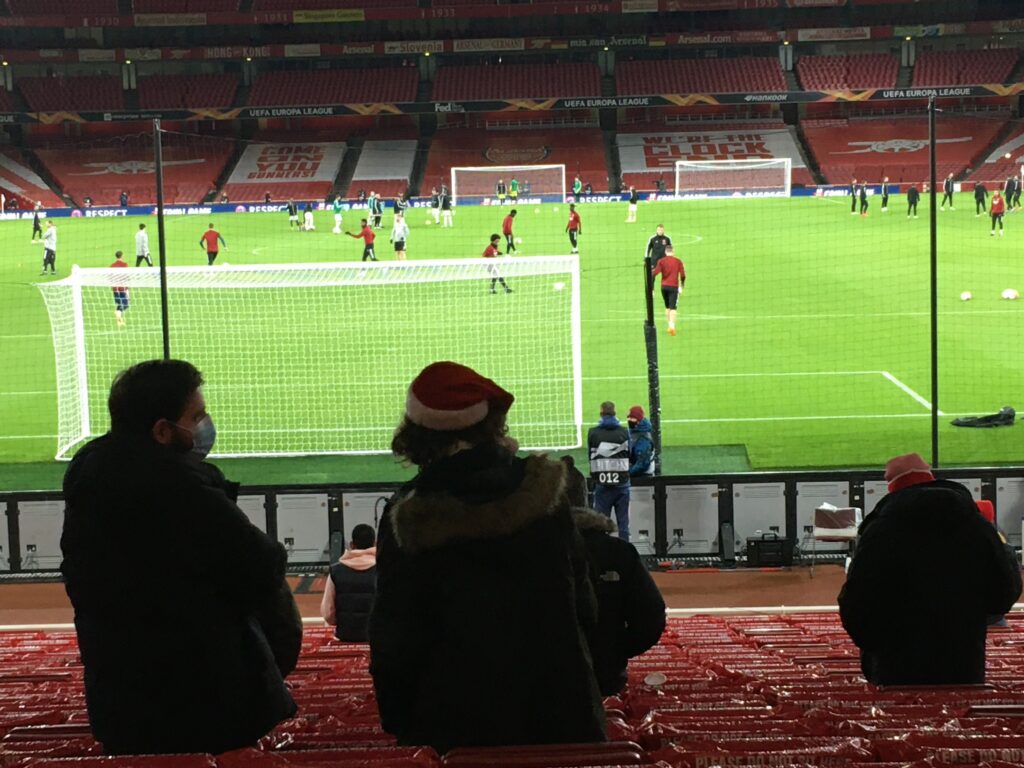 The fact the distancing means there's space enough to wander sideways and wave is even more irritating for seated supporters straining to follow the match from behind. Inveterate lower tier members will be used to standing but not those displaced from other areas who either prefer to sit, or are unable to stand for ninety minutes. Last night, stewards were quite enthusiastic to make sure standing was limited to celebrations but it was all was novel and in good spirit. May it continue that way (and the goals to celebrate)!
Against Rapid Vienna, some of the best moments often came from the chanting, with old-style name checks and singing to the non-existent away supporters ('Your support is ******* ****') and the silence greeting their goal was bizarre. But somehow, the distancing and the fewer numbers seems to demand you make more noise than you normally might!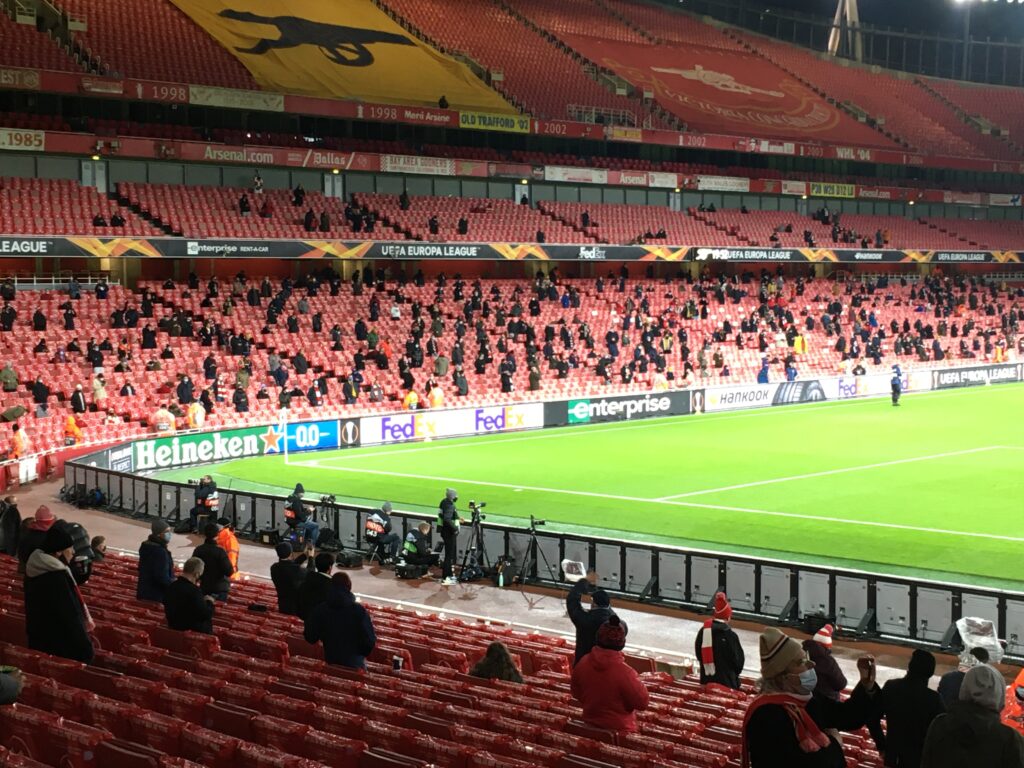 At the end last night, the exiting wasn't mico-managed (thankfully, seeing as it was chillingly cold!) and those in a hurry to catch last trains would not have been delayed. We can't guarantee that will happen every match, though.
In truth, it all seems a little unreal, that it isn't actually happening. But the club has it well organised with nothing to fault and all to praise them for, at least from this writer's experience. And when you get to your match, you'll be so glad to be back.
Any tips? Don't forget to do your adavance Track and Trace questionnaire. Your emailed ticket from the club may end up in spam, so keep a check on that. On match day, don't carry anything bulky. Get there early. There were no queues fifty minutes before kick off, but leave it late and the checking process might frustrate you and lead to your missing the KO. And that'll perhaps become even more of an issue if the government allows attendance to increases beyond 2000.
But what's it like to be back? Unbelievable!!