The funeral will take place at the Islington Crematorium (N2 9AG East Finchley) on Friday 13 October at 11.00am
There will be a wake in Islington – details still to come.
AISA has learned of the death of Steven Powell. Founder member of AISA, former commitee member and dedicated Arsenal supporter, he will be sorely missed by us all.
As of Monday afternoon August 28th, there have been over 450,000 X (Twitter) tributes and messages of condolence, a recognition of how highly thought Steven was, as an influence in football and as a person. We were at AISA were lucky to have known him and worked with him, and we will continue, with all our friends in the football community, to carry on the work that he started.
Tribute from Malcolm Clarke
Football Supporters' Association (Chair)
Steve worked for the FSF, as was, as Development Officer. He was also on the Board of Supporters Direct and its Vice-Chair for a number of years, and was heavily involved with the Arsenal Supporters Trust and other football organisations. He was also a keen supporter of Wales. He had friends and contacts all over the world, particularly in South America, and loved watching football in different countries and cultures. He was very knowledgeable about football world-wide and also other sports as well. To take just one small example I remember him educating us about what we could learn from the regulation of Australian Rugby league.
He was of course a regular attendee at conferences and used to make the self-deprecating comment that no conference was complete, "until the fat gooner has ranted"! He was a very effective orator, and an experienced negotiator, having been a full-time trade union official in his younger days.
I particularly remember his great contribution to the "Accord" between the Wimbledon supporters and MKD FC, which resulted in the return of all the historical records of Wimbledon FC to Merton, including the replica FA Cup, in return for lifting of boycotts. Steve and I spent a day shuttling between the parties, when his skills as both a drafter of documents of agreements and a mediator were used to great effect.
RIP Steve.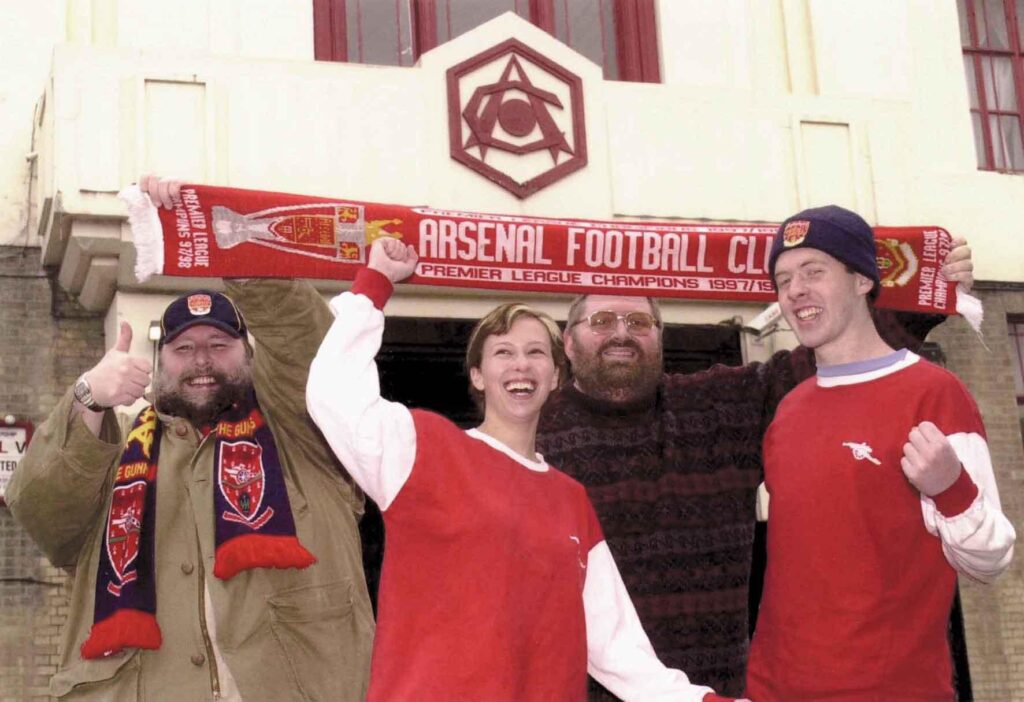 Outside Highbury the day after AISA achieved its founding objective, when Islington Council gave planning permission to Arsenal FC for the Emirates Stadium.
Steve (far left), Alysen Miller, Paul Matz and Julian Harris.
A few of the many tributes to Steve
Clearly Steve had the best for supporters at the heart of what he did. A big miss for all supporters.
Condolences to all who knew and loved him. RIP Steve (West Ham United Supporters' Trust)
Steve was involved in so many aspects of supporter representation and policy development and as has been mentioned had some apt turns of phrase and will be very much missed. Hopefully this news is being shared more widely – Steve was part of the former Southern Division which also involved representatives from EFL and National League clubs, who I am sure would wish to be aware.
Condolences to all Steve's family and friends and may he rest in peace. (Crystal Palace Supporters' Trust)
A lovely man. So sad to hear this news. What a man Steve Powell was. A proper campaigner – principled and stupendously knowledgeable.
I am trying to pin down when we first crossed paths but I suspect it was during Murdoch's attempt to take over Manchester United in 1998.
Many knew him better than me but I don't think they could have admired him more.
Raising a glass to Steve tonight.
Rest in Power Steve Powell xxx (Manchester United Supporters' Trust)
Stephen was a member of ADSA attending our AGMs and I saw him at most home and away games. His love for Arsenal was clear to see.
Rest in peace Stephen (Arsenal Disabled Supporters' Association)
Steve was a great man, he was actually member number 0001 – ie one of the founders of the Arsenal Supporters Trust and helped get it off the ground in 2003.
More recently he supported from the sidelines but did attend #AST20 (our 20th anniversary celebration) a few weeks ago and was in the front row.
In fact he thanked many of us for our work and was complimentary of my little one who also attended the night.
He genuinely cared and tried his best to be helpful.
He will certainly be missed.
From everyone at the Arsenal Supporters Trust, we thank him, for his dedicated service and will always be grateful for the work he has done with the AST and football generally. (Arsenal Supporters' Trust)
I'm sure we all know people like him at our own clubs and throughout all levels of football. Selfless people who will always go above and beyond, just because of the love they have for their club and for the game as a whole.
Deepest condolences from myself and on behalf of the Everton Fan Advisory Board to all who knew him.
Such sad news.
Please accept and pass on the condolences of the Fulham family. (Fulham Supporters' Trust)
Such sad news.
Thoughts with all who knew Steve and who worked with him over the years, huge condolences to our friends at Arsenal. Hearing some great stories about him.
RIP Steve. (Premier League Network Manager at the Football Supporters' Association)
It's so sad to hear this news today of someone who did so much on behalf of football supporters.
Rest in Peace Steve. (Burnley)
I would like to add our condolences from all at Brentford and BIAS. My only interaction with Steve was very briefly in the form of an introduction at an FSA AGM in the past but just in that brief moment I could see how his passion shone through. (Brentford Independent Association of Supporters)
Without Steven Powell there wouldn't have been an Arsenal Independent Supporters' Association and without AISA, Arsenal would have found it much more difficult to obtain planning permission for the site that became The Emirates Stadium. It's sometimes forgotten what a vigorous campaign against the new stadium took place by the local Green Party and what AISA described as 'nimbys' (not in my back yard). Many local councillors were wavering at the time so who knows what might have happened …… (Paul Matz, Founder AISA)
Steve and I served on the AISA Committee for several years with Steven Powell and can affirm his passionate support for Arsenal and its Fans. His support and opinions though were always backed up by his extensive knowledge of the wider world football and detailed knowledge of Arsenal football club, both dizzying at times.
We also appreciated his humour when discussions warranted it; clearly born of hours spent in committee rooms and union and similar debates. (Steve and Jen Mann, AISA)
Dave Boyle's tribute (Dave Boyle is a former chief executive of Supporters Direct, the UK body that supported sports fans to become involved in the ownership and governance of their clubs)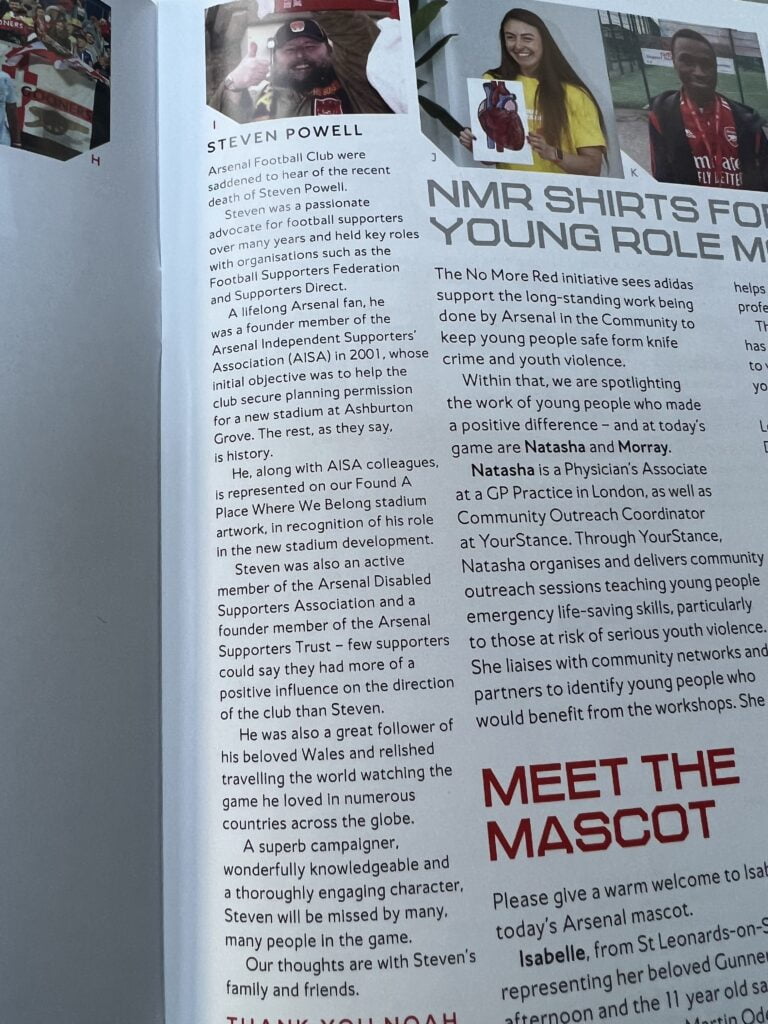 RIP Steve
When Pompey Independent Supporters Association were trying to drum up support to form a Supporters Trust, we invited Steve to a public meeting in Portsmouth and he spoke very well on the benefits of having a Pompey Supporters Trust.
This particular public meeting saw a vote taken with unanimous backing which of course eventually led to PFC becoming the largest Fans Owned Club in the Country for a good number of years.
A very decent chap who not only supported his beloved Arsenal but was more than happy to help others in safeguarding their Football Clubs.
God bless him.
Pompey Independent Supporters Association
Sad – I remember Steve vividly at various supporter events,
STAR
Sad news. He was really supportive of us at AFCW in many ways, including attending matches.
Obviously, I knew Steve via SD for the time I was there, and his pleas for fan unity at the end of the first few SD conferences I helped oversee were quite the thing, until as I recall the format changed and they were put paid to…
I smiled to myself when at last year's FSA version at Plough Lane, he was still doing it there. Lovely bloke, will be missed.
Dons Trust Board
RIP Steve. I remember him through the years on the FSA & SD lists for his interesting and constructive contributions.
No doubt he will be watching Arteta's entertaining team now from up in the skies.
RamsActive
Sad news, watching the game he loved from another word rest in peace Steve.
Wafc Travel & Supporters club
Very sad news to hear about Steve. He was a great advocate for ordinary people. A great person all round. Rest in peace Steve.
Bradford City Supporters Trust
(Our thanks to the Championship, League 1 and 2 Networks)