On Sunday, August 26, fresh from 'over' celebrating our victory over Fulham, some of the AISA committee went in search of the origins of The Arsenal.
Meeting by the Thames we took the TFL riverboat from Embankment Pier all the way up to Woolwich Arsenal, dropping off tourists at every stop. If you've never taken the boat up river I can thoroughly recommend it for the views of the capital and the fresh air. Heading past all the sites (Westminster, London Eye, the Tower and Tower Bridge, HMS Belfast) then onto Greenwich, Canary Wharf, and through the Thames Barrier, the boat finally disgorged the small number of passengers who, like us, were getting off before Barking.
Once on dry land we rendezvoused with Barry who had made his own way by car armed with a bundle of maps for us to explore the area. Our first stop of course was at the Dial and a search for the monument which commemorates the link to Arsenal FC.
The former was easy to find – standing proud over the entrance to a modern gastropub – the latter was harder, since the pub's efforts to provide a comfortable outside dining experience has rather obscured the small statue of a football on a column.
All in all it looks rather neglected and certainly not in keeping with the history of this great football club. But more of this later…
Having spent a good hour or more on the journey there (the boat takes about 75 plus to get from Embankment to Woolwich) it was time for refreshment so we headed over the green to the Guardsman pub to recharge our calorie count and do some planning.
We decided to use Barry's maps to go in search of the Invicta and Manor grounds in Plumstead where the club played before the move to Highbury in 1913. This was far from straightforward.
However, a bus journey and half an hour later we managed to find a house Barry had identified as having some old terracing in the garden. Much peering over a high wall and enquiring at front doors confirmed our calculations that we'd found the old Invicta Ground where Arsenal had played their first ever FA cup match. You can just about make out the terracing in the photos below.
Buoyed by this we walked over to Plumstead Bus depot where we thought we might find evidence of the Manor Ground. Sadly, this has been so developed that there is no trace of a football pitch at all, just a drive-thru MacDonalds. But in later research we think we can identify the ground as being right there, so we were in the right place, even if all evidence of it has been destroyed.
Back at Woolwich we opted for the DLR and Underground to get us all home and a well earned supper.
We did all this because we would like to create a Woolwich Arsenal trip for AISA members and so this was largely a fact-finding mission. There is plenty to see at Woolwich – many of the old arsenal buildings (some dating back to the late 1600s) still exist, and there are several cannon or guns, some interesting sculptures, and of course river views. It's a great day out and all the better for doing it with like minded friends.
Is it worth going into Plumstead in search of football grounds that don't exist? I suspect that rather depends on what gets you up in the morning. But it can be done and we can help those keen to see what we saw. So an AISA Woolwich trip (or multiple trips if people are keen) with an AISA Arsenal History guide are very much on the cards so please let us know if you are interested.
If you have a large boat on the Thames please do get in touch as well! 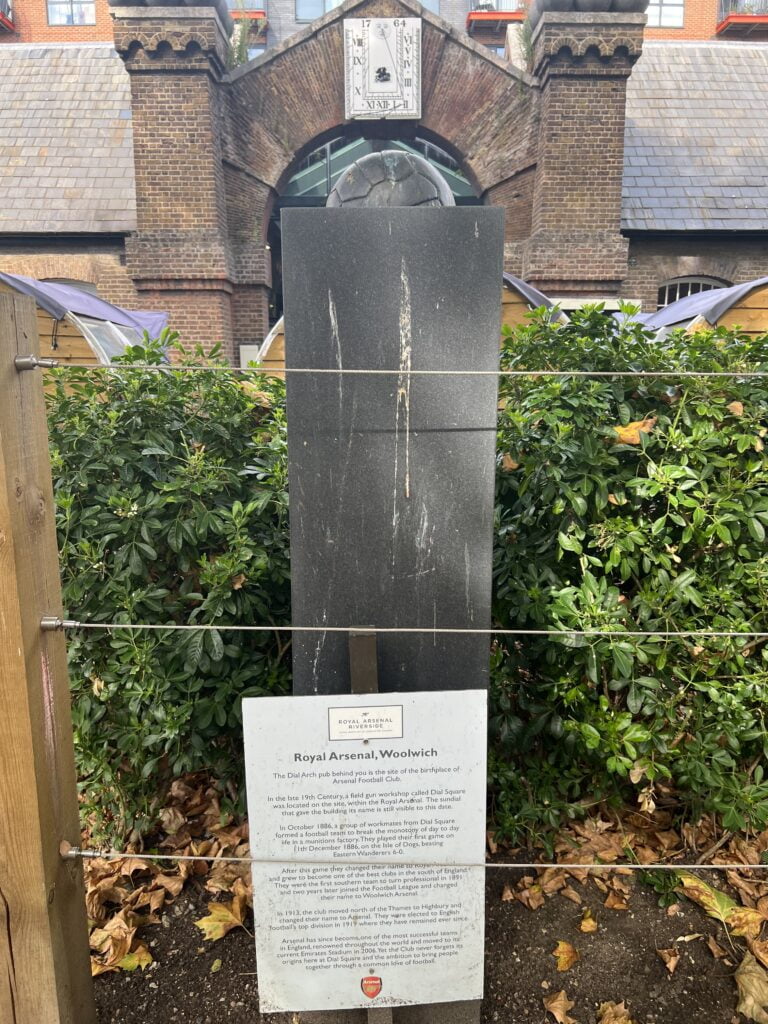 Back to the monument…
As I said it looks sad and neglected so when I sat down in front of my computer at home I rushed off an email to Vinai Venketesham and Mark Gonnella, along the lines of 'isn't there something we can do about this as a club'?
I was pleased to get a very positive reply from Vinai on Monday evening. Not only will he and Mark look into this, he is keen to follow up and learn much more about the club's history as well, and asked for our help. AISA is the custodian of the club's history, we have several members who have done more than anyone to research and write The Arsenal story and it is great to see the club listening to us again.
If you know Woolwich and the monument, we'd welcome your thoughts on what might improve or replace it.
Drew Gray (Chair AISA)