For anyone who aims to be original, or to break the established mould, life is rarely easy. And life certainly wasn't easy for the members of Arsenal FC during its early days.
Having become the first club in the south of England to turn professional in 1891, Arsenal soon found themselves under attack.

Contrary to popular belief this attack came not so much from the amateur clubs in the south east, (for they in fact welcomed matches against Arsenal, which were always well attended) but from within the very communities that the club served.

For in 1892 Arsenal split in two, as a group of rebels pulled away from the club, and, working with the club's landlord, sought through a variety of often illegal means, to bring the club to its knees. And just to make it clear that they meant business, the rebels also set up their own rival club – Royal Ordnance Factories FC.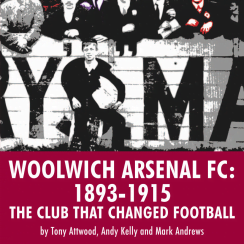 Indeed as Woolwich Arsenal moved into the Football League, ROFFC, occupying Woolwich Arsenal's old ground, moved into the Southern League.

Ultimately of course, Arsenal won through. But despite a promotion to the first division and two FA Cup semi-finals, the progress of Woolwich Arsenal FC was not smooth, and as the club's crowds declined following a reduction in the workforce at the armaments factories, financial disaster followed.

A proposed merger with Fulham FC was avoided, but disaster on the pitch still loomed as Arsenal were relegated in 1913 on the eve of the club's move to its new ground at Highbury.

Curiously the man who saved Arsenal, and who built the club a new stadium, is often today cast as the villain of the piece, and this is just one of the historical inaccuracies that the new definitive history of Woolwich Arsenal FC sets out to correct.

With a preface by Edward Humble, great grandson of the club's first chairman Jack Humble, and chapters covering not only the history of the club but also a review of the crowd at Woolwich Arsenal, the club's extraordinary away support, the managers, the grounds, the directors, shareholders and of course the players, "Woolwich Arsenal: the club that changed football" represents a complete re-writing of Arsenal's early years.

The book is published by Hamilton House, on behalf of the AISA Arsenal History Society, and is available from the publishers via their web site at http://www.blog.woolwicharsenal.co.uk/the-book/ .