Who has been Arsenal's greatest visionary leader of all time?
It's not a question that we normally pose in relation to Arsenal, but if we did, there's no doubt that Herbert Chapman would top many people's lists. He is the man who delivered the first trophies, set the team on the path to success and glory through a 20 year period, and who is considered to be one of football's great innovators.

Indeed if there were a vote for "Arsenal's greatest visionary" Chapman would probably win hands down, while Mr Jack Humble would perhaps clock up no more than two or three votes.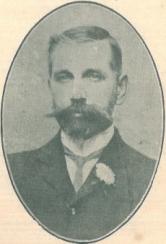 But all that could change as AISA's Arsenal History team begins a campaign for the club to recognise the astonishing contributions that Jack Humble made to the club over a 40 year period incorporating the early days of the club through to the Chapman era.
Jack Humble was one of the most influential members from Arsenal's early days as Dial Square FC. He played for the club, was on the committee, than the chairman, and it was he who proposed that Arsenal should become the first club in the south to turn professional.
While others turned away from the club either when their playing days were over, or because they objected to professionalism, Jack Humble continued to work as a director. When the club went into administration in 1910 he remained, fighting for the football club he loved, and joined forces with Henry Norris (his political opposite in every regard) to create the new company, which three years later took Arsenal to Highbury.