August 2020
Arsenal 2-1 Chelsea
Arsenal's record-breaking 14th FA Cup victory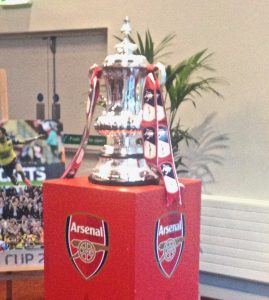 1 August 1980: After 235 league games Liam Brady transferred to Juventus for £514,000.  He later played for Sampdoria, Inter, and Ascoli before returning to London to play for West Ham.
5 August 1977:  The Football League backed the Football Association's ban on sponsors' advertising on player's shirts. However, non-league clubs were permitted to show sponsor's names on their players' shirts.
7 August 1982: Tony Adams first appearance, in friendly away to Colchester.  He had signed as a schoolboy and played his first league game on 5 November 1983 and went on to become Mr Arsenal.
7 August 199:Thierry Henry's first appearance (having signed on 3 August) – as a sub in Arsenal 2 Leicester City 1 on the opening day of the season.  He had scored 3 goals in 16 for Juventus, and 20 in 105 for Monaco and did not consider himself a natural goalscorer.
7 August 2002: Gilberto Silva joined from Atlético Mineiro for £4.5m despite. Prior to coming to London he had twice given up football to work in a sweet factory due to financial difficulties at home.
11 August 2003: Ahead of the Unbeaten Season, Paul Merson on BBC TV said Arsenal were favourites because they had the "best players … If they all remain fit week-in week-out then they will not be beaten." 
14 August 1996:  The first Arsène Wenger signings,Remi Garde (on a free transfer) and Patrick Vieira( £3.5m) joined Arsenal.  Wenger was still in Japan ending his contract and both players arrived carrying injuries.
18 August 2001: Middlesbrough 0 Arsenal 4 – the start of an away games run that continued until 28 September 2002 when Arsenal beat Leeds 4-1 away to break the record by scoring in 47 consecutive games and making it 22 away games without defeat   Sol Campbell played his first league game for Arsenal and Henry said afterwards, "I saw something today I never saw last season – we played as a team.  It's the most important thing in football."
22 August 1964: BBC TV launched Match of the Day with one recorded game and chose Liverpool v Arsenal.  It meant that Arsenal continued their run of broadcast firsts, being the first team with a radio commentary and the first ever televised team when Arsenal v Arsenal Reserves was shown.
25 August 1928: For the first match of the new season Chapman introduced numbers on the players' shirts.  The FA said subsequently said "no", for no apparent reason other than it was new.
27 August 1932: The run of three consecutive league championships began with Birmingham 0 Arsenal 1.  The first goal of this unique Arsenal run was scored by Reg Stockill in his first match.  He only played four games in the season – but scored three goals.
27 August 1997: The definitive Bergkamp hat trick was scored at Leicester in a 3-3 draw in the 4th league game of the 2nd Double Season   It was the first hattrick under Arsène Wenger.
28 August 2011: Arsenal lost 2-8 to Man U.  Arsenal's goals came from Walcott and Van Persie, and the first Man U goal from Welbeck.   It took Arsenal until October to recover when a run of seven wins and a draw in eight games restored the team's self-belief.
30 August 1913: The first ever match played at the Gillespie Road ground, later renamed Highbury.  It was the third training match of the pre-season, with the previous two being played at Fulham and Millwall as the pitch was not ready.  This game was played behind closed doors, and was probably between the first team and the reserves although no exact details are available..
30 August 1919: Arsenal started the longest run in the top division in the history of English football, by coincidence playing the same team that they played in their first league game.  The match was lost 0-1 to Newcastle.  It was also the first match as manager for Leslie Knighton plus the first appearance of Alfred Baker, Henry White and Ernie Williamson.  Although Arsenal's rise to the 1st Division is often told as being corrupt, it actually came about in part through revelation by Arsenal's chairman of the match fixing of other teams and his demand for the corruption to be resolved.
31 August 2003: The Times reported the league match against Man City as containing "the worst 45 minutes [by Arsenal] that any of their fans could remember".   It ended Man City 1 Arsenal 2 and was the 4th league match of the unbeaten season.