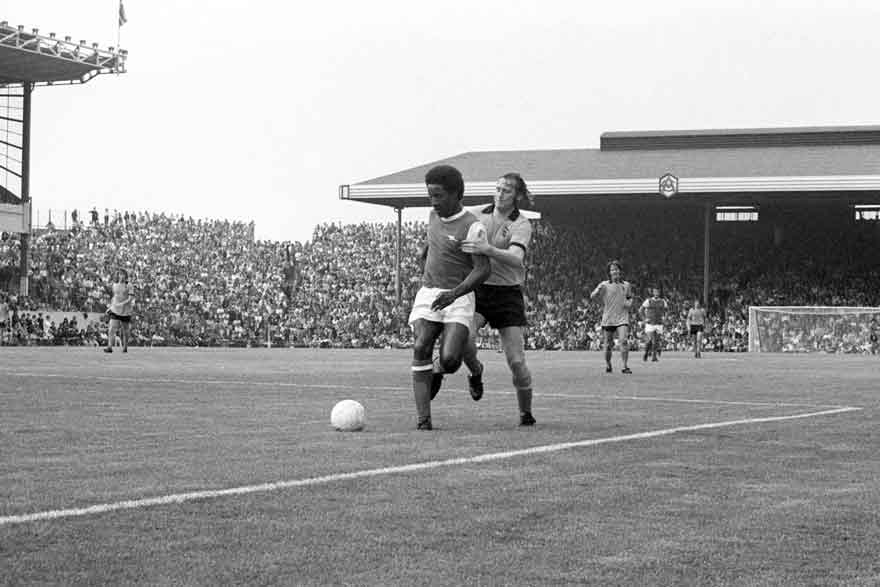 On Monday 20 July AISA hosted an interview with Brendon Batson, former footballer and deputy chair of the PFA (the Professional Footballers Association).
Brendon is an inspiring speaker, talking with passion about his time in the game as a player for Arsenal, Cambridge United and, most famously, West Bromwich Albion. He only played a small number of games for the Arsenal under Bertie Mee before departing for Cambridge where he became an integral part of their team. He eventually followed 'Big Ron' Atkinson to West Brom and was later immortalized in bronze in the town's New Square Shopping Centre as one of the 'Three Degrees' (Brendon, the late Laurie Cunningham and the late Cyrille Regis).
Injured in 1982 his playing career stalled and in 1984 he retired and joined the PFA where a new career began. Brendon mentioned that the injury that forced him to hang up his boots had its roots in an earlier injury he sustained while playing for the Gunners in the early 1970s. Perhaps that reality – a reminder that footballers' careers are fragile things – and the influence of his PFA rep at Arsenal (Bob Wilson) helped shape that second career.
At both Cambridge and West Brom Brendon was closely involved in player representation and so his move to the PFA was probably no surprise to those that knew him well. He spoke with such passion about the founding of the PFA (in 1907) and the work that it has done (and continues to do today). We forget perhaps that players were unable to move without the club's permission which effectively forced them to accept the wages on offer, meaning they were – in his words – subjugated to their clubs. The football world is so different today but Brendon is still quick to back those players that earn the 'big bucks': it's them we pay to see, he says, and injury can cut a career short at a stroke.
I found him a powerful voice when he spoke about the PFA's work but even more so when we moved on to discuss racism in the modern game. As one of the first black players (the first at Arsenal) to play professionally, Brendon 'Batman' Batson was a pioneer. And like so many people who go first he had to suffer the abuse that was thrown at him. He recalled an incident at Newcastle whilst playing for the "U's when a home supporter threw a ball at his face and called him all sorts of names. He was tempted to throw the ball back with interest but was stopped by a teammate.
He is pleased that things have improved for many people but equally sad that racism still exists in the game. He recognizes that racism is a problem not just for football or sport but for society as a whole; he even said that the racism he encountered on the pitch was pretty tame compared to what he had experienced off it after arriving in England aged nine in 1962. He was called a 'chocolate drop' on his first day at school and admits he had no idea whether that was a good or bad thing!
I asked what supporter's groups like AISA could do to help counter racism in the game and to promote diversity in clubs like ours. He thinks we can all do our bit and press clubs to allow more diversity across their workforce – from the pitch to the support staff and back up to the boardroom. A US style 'Rooney Rule' won't work here but voluntary measures aren't working either; we need give everyone and equal opportunity.
Arsenal rightly prides itself on equality and diversity but I think we can ask our club to do more. We should see more black faces in the upper echelons of the club, whether that is in the coaching staff, recruitment, management, or any of the diverse roles that make a modern football club a success. Look around the Emirates and the BAME staff you'll see (aside from those entertaining us on the pitch) will be serving your food and drink, stewarding, or cleaning up after us.
I'd like to see a BAME manager at Arsenal one day soon (not too soon, Arteta is doing a great job!), as well as on the board, in a position of power, so that all the young men and women of our local N5 community have a range of role models to look up to. I would like AISA to pledge that we will continue to challenge Arsenal FC to 'do better' on equality and diversity in general and on equality of race in all aspects of the club's work in particular. 

By comparison to Arsenal FC, AISA is of course very small but we will also think about what we can do ourselves to ensure we are an equal opportunities organization, in deeds as well as words. Thoughts on our campaigns and activities and what we should be pressing Arsenal on are always very welcome – contact us at equality@aisa.org
Drew (AISA chair)
P.S. The full story of how the notorious system that bound players to clubs in a form of modern slavery, is exclusively available on the AISA Arsenal History Society website.   It was one of our early pieces of original research.